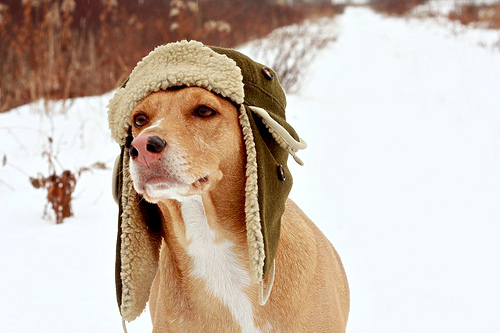 What a winter we've had so far here in Denver! This is actually our busiest season at Pet Scoop and seeing our clients lately makes us think of our favorite winter tips to keep your dog safe and healthy:
When possible, keep dogs indoors in cold temperatures, especially older dogs and puppies.
If you have an outdoor dog, provide an insulated shelter with plenty of padding and blankets. Offer a heated water dish to keep your dog's water from freezing.
If needed, offer your dog an extra layer of protection. Protective paw covers, a doggie sweater/jacket, or even letting your dog's fur grow a bit longer than usual can give additional warmth. Not all dogs tolerate clothing but if your dog has a short coat, is a smaller breed, or exercises outside with ice and snow, consider trying one (or all) of these options.
Lock up antifreeze. This sweet tasting liquid is poisinous to dogs.
Try to use pet friendly ice melt on your steps, walkways, and driveway. The bonus with pet friendly materials is that they are usually colored so you can see where you've sprinkled them.
Heated air in your house tends to be drier. Make sure your dog stays well hydrated.
Put protective screens around space heaters and wood stoves and ensure your dog is supervised when they are turned on.
Make sure your dog is leashed and wearing a collar with identification. Sometimes dogs lose their scent in the snow and get disoriented, increasing their likelihood of getting lost.
Keep your dog's outdoor area free of 'poopsicles' to decrease the likelihood of inappropriate snacking. (Or if you prefer and live in the greater Devner area, we can do that for you.)
So please Pet Scoop friends, keep yourselves and your pets happy this winter. And if you have any additional winter tips, share them in the comments!