Let's face it, no one likes to clean up dog waste (except us, of course). If you have a special person in your life that has a dog, why not give them one of the most thoughtful and unique gifts available? Give the gift of freedom from the least favorite "chore" of having a dog… the gift of a professional poop scooping service.
A PET SCOOP Gift Certificate will be unforgettable, appreciated and most importantly, used!
Why Choose PET SCOOP?
Simply purchase a gift certificate here.
You will have the option to print out the certificate yourself or we can email it to you or whoever you would like.
The recipient will simply call us and we will set up a time to come out for the one-time or initial cleanup and then regular on-going service if you would like.
Special, limited-time Offer, purchase at least $50 now and we will add an additional 10% to your PET SCOOP Gift Certificate!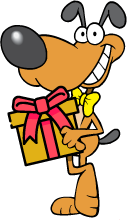 How much should I spend on a Pooper Scooper Gift Certificate?
It really depends on what you would like to give:
You could purchase a one-time cleanup or an initial cleanup with regular service.
Examples:
The average initial/one-time waste cleanup (a yard that has not been cleaned in about 1 month with 1-2 dogs) would cost approximately $45-$75 (could be more or less depending on the time since yard was thoroughly cleaned and the number of dogs).
The average regular cleanup (weekly service is our most popular, with 1-2 dogs) would cost $12.00 – $14.50 per week.
Our Recommendation:
(Again, it depends on the length of time since the yard was cleaned and the # of dogs)
One-Time Cleanup only = $45-$75
1st Month (with Initial cleanup) = $80-$100
Each additional month = $50-$60
We would also recommend that you purchase a little more than you might expect and additional credit left over will simply be additional service for your special gift!