We take our commitment to service seriously and appreciate any reviews or feedback that helps us keep our commitment to you. Our Pooper Scooper Service Technicians get to know and love your dogs and we know how much they appreciate our visits to your yard.But with busy work schedules and hectic lifestyles, we don't always get to see and talk with you and it's important to us that we know how we're doing. We hope you'll take a moment to let us know how you are enjoying your pooper scoop service cleanups!
Here is what our customers are saying about Pet Scoop Pooper Scooper Services:
Mary F. of Littleton says:
Kat always makes an effort to meet and greet our dogs getting to know them and making them feel good!

Steve F. of Parker says:
Holly is such a hard worker and never leaves any waste!

Bridgett R. of Denver says:
Your Services are very professional, and the quality of work is outstanding. Keep up the good work!

Lorita W. of Denver says:
I am disabled and he always rings the bell which is so helpful to me.

Holly B. of Denver says:
Anthony exceeded our expectations on the initial clean-up and 'Blew us away!' with his customer service.

Heather A. of Englewood says:
Pet Scoop has been picking up after my dog and making my life a heck of a lot easier for a few years now and I recommend them to anyone I can. Their techs are always very friendly and efficient, and the customer service rocks… a great company to work with!!

Suzanne K. of Franktown says:
Brian does an outstanding job! We are very pleased and we love having him clean our yard. We are thrilled with the service!

Lexie K. of Lakewood says:
Kenny gives our dogs treats which makes them stop barking and to make them feel comfortable with a stranger.

Monique R.of Denver says:
Billy taught our dog to fetch and always gives him hugs and kisses!

Maura Z. of Thornton says:
Trace's service is excellent and is my most prized service; can't live without it!

Tasha O. of Lakewood says:
I am impressed with Nick's service and the job he does. We were considering cleaning the yard ourselves, but we keep the service because he does such a great job!

Julie H. of Arvada says:
Thanks! We love the service, it makes our lives easier!!!

Kay S. Golden says:
Thanks for a job well done. I'm so glad I found you guys!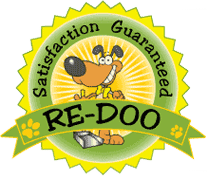 The Pet Scoop Guarantee
To provide you with the best pooper scooper service possible. If you are not completely satisfied with a particular dog poop clean up, simply let us know. We will credit your account for that clean up or come back to re-clean your yard.